---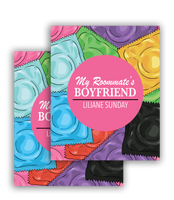 She thought she left the past behind...
...Instead he's sleeping in the bedroom right beside her.
Two years ago, Izzy met Thad, a young, gorgeous, big shot photographer. She knew he was out of her league, yet she allowed herself three delicious weeks in his arms and in his bed, where she pretended a world in which they could actually end up together existed.
 Now, two year later, she's disappeared from his life for good, though she hasn't forgotten a moment of their time together. Not even while she's planted firmly back in reality, struggling to get her freelance career off the ground. She's barely making ends meet and has just moved into a tiny apartment she'll share with a girl she met on the internet.
 And just when she's sure things can't get any worse, she meets her new roommate's boyfriend—a young, gorgeous, big shot photographer, and he hasn't forgotten her either.
What format should I choose? 
If you're reading on Kindle or Kindle app, select .MOBI. For all other eBook readers/reading apps, select .EPUB
Liliane Sunday is a writer, editor, artist, and dedicated cat mom. When she isn't busy brainstorming new and not-gross synonyms for genitalia, she's bingeing teen vampire shows, painting her toe nails, and trying to stay up past ten PM.